Upcoming Money SMARTS class:
Money SMARTS will be held at Kapolei Hale on
Saturdays, March 14 and 21, 2020, from 9AM to 1:30PM
Both days are required for completion. Kapolei Hale is the satellite city hall/DMV at
1000 Uluohia Street in Kapolei.
To register, call (808) 683-2303 and leave a message including who will attend, or email grfield@alulike.org
Money SMARTS begins with setting goals with SMARTS, both short-term and long-term goals. The course moves on to banking tools that can help with our financing. Strategies for budgeting and savings are discussed and we develop an actual family budget. Together, we look at credit, credit cards, consumer rights, how to read a credit report and fixing our credit. The course concludes with Investing for the Future with savings plans for education, starting a business, homeownership and retirement plans. The course is designed for individuals or families with up to moderate income and gives a good overview of personal and family financial management strategies.
The Money SMARTS course is free! The course is eight hours long and is delivered in a light and engaging manner. The binder and handouts become a toolkit personalized for your family. The course is presented by ALU LIKE, Inc., and sponsored by the State of Hawai'i Department of Human Services.
For more information, and to reserve a space at an upcoming class, contact: Greg Field at 683-2303 grfield@alulike.org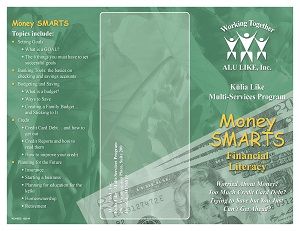 Topics include
Setting Goals
What is a GOAL?
The 6 things you must have to set successful goals
Banking Tools: the basics on checking and savings accounts
Budgeting and Saving
What is a budget?
Ways to Save
Creating a Family Budget… and Sticking to It
Credit
Credit Card Debt… and how to get out
Credit Reports and how to read them
How to improve your credit
Planning for the Future
Insurance
Starting a business
Planning for education for the keiki
Homeownership
Retirement