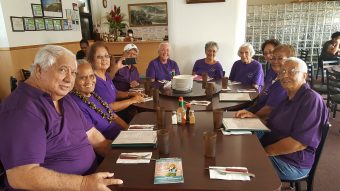 The Ke Ola Pono No Nā Kūpuna Program provides nutrition and supportive services to independent Native Hawaiians 60 years of age or older on the islands of Hawaii, Kauai, Maui, Molokai and Oahu. Nutritious congregate meals are available at project sites and home delivered meals are provided to qualified individuals who are unable to attend site activities. Limited transportation services to and from program activity sites and other health-related sites during regular program hours is provided. Outreach, information, and assistance services link our elders to other service agencies and organizations
At the program sites, kūpuna engage in cultural activities that include hula, Hawaiian language and Hawaiian history. Intergenerational activities with children and young adults from the community are encouraged. Health monitoring, health promotion and education, nutritional counseling and physical activities are available at site and through our partnership with the Native Hawaiian Health Care System.
Eligibility
This program is available to independent individuals of Native Hawaiian ancestry 60 years or older and their spouses. A birth certificate is required for proof of age and ethnicity.
Services
Congregate meals
Limited home delivered meal service
Information and referral services
Limited transportation and assisted transportation services
Nutrition and health screening, education, and counseling
Phone reassurance and friendly visits
Education
Recreation and social support services
Physical activity
Volunteer opportunities
Intergenerational activities
Hawaiian culture activities such as language, hula, history, arts and crafts
Cost
Voluntary donations are accepted.