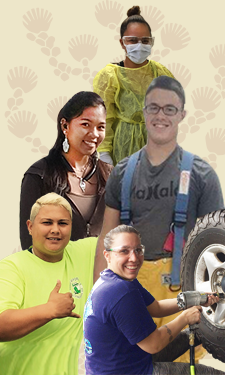 The Hana Lima Scholarship Program (HLSP) provides financial assistance to students participating in a vocational or technical education program for occupations that can provide a "living wage." This scholarship is available to students in vocational programs that lead to a specific segment of employment. This $1,500 scholarship gives financial assistance toward tuition and fees, books and other required tools or uniforms for a vocational program.
The Hana Lima Scholarship Program is a need-based award with preference given to non-traditional students: Single parents, disabled (meets ADA definition), houseless, sole-income providers, previously incarcerated and wards of the court. Special funding is also available for WEST HAWAI'I ISLAND applicants. Students pursuing a major in Liberal Arts are not eligible for this scholarship as the Hana Lima Scholarship Program supports students who have declared and are committed to a specific program of study.
Click Below to Begin
Completed applications should be mailed or hand delivered to the following address:
ALU LIKE, Inc.
Hana Lima Scholarship Program
2969 Māpunapuna Place, Suite 200
Honolulu, HI 96819
Hand delivered applications must be submitted during normal business hours
Mailed applications with inadequate postage will be returned to sender
E-mail or fax applications will not be accepted
NEW THIS YEAR: Applications will be accepted YEAR-ROUND starting on August 1, 2017
Eligibility
As an applicant, you must meet the following criteria:
Be of Native Hawaiian Ancestry
Be a resident of the State of Hawai'i
Not currently receiving any Kamehameha Schools financial aid for post-secondary education
Be enrolled at least half time in a vocational degree or certification program in one of the approved educational institutions in Hawaii listed on the application.
Maintain a 2.0 or higher grade point average (GPA)
Priority of student selection
Vocational programs (Culinary, Nursing), Certified Nurses' Aide (CNA) and majors in fields with anticipated high growth who are documented non-traditional (Single parents, disabled (meets ADA definition), houseless, sole-income providers, previously incarcerated and wards of the court)
Applicants living in these WEST HAWAI'I Island zip codes:
96704 96719 96725 96726 96727 96737 96738
96739 96740 96743 96745 96750 96755 96776
Vocational majors and Certified Nurses' Aides who are considered traditional students
Students with a declared major
Distance Learning students completing AA/AS coursework are highly encouraged to apply
Please Note: The maximum times any applicant may receive the Hana Lima Scholarship is twice during the course of their lifetime and must be within the same vocational/technical training program for which the applicant received their first award.
List of Approved Educational Institutions

Aloha School of Massage Therapy
Applied Computer Training & Technology, Inc.
Assist to Succeed Honolulu, LLC
Caregiver Training School
Contractor's License Center, Inc.
DevLeague
Elite Massage Academy, LLC
Fernando's CDL Services
Gros Bonnet Culinary Academy, LLC
H2K Driver Training Services, LLC
Hawai'i Affordable Trucking School
Hawai'i Dental Assisting Academy, LLC
Hawai'i Healing Arts College
Hawai'i Institute of Hair Design
Hawai'i Institute of Healthcare & Training Services
Hawai'i Massage Academy
Hawai'i Medical College
Hawai'i Medical Training Center, Inc.
Hawai'i School of Dental Arts, LLC
Hawai'i School of Professional Massage
Healthcare Training & Career Consultants, Inc.
Honolulu Nail Academy, LLC
IBS School of Cosmetology and Massage
Island CPR, LLC
Ka Pa Lomi Ola, LLC
Kalani Honua, Inc.
Kaua'i Nurse Aide Training Center
La Mer Nail Institute, LLC
La'i'Ōpua Lapa'au Health Academy
Makana Esthetics Wellness Academy, LLC
Maritime License Center, Inc.
Maui Academy of Healing Arts
Maui School of Therapeutic Massage
Med Assist School of Hawai'i, Inc.
Mid Pacific Medical Training Institute, LLC
Paul Mitchell The School, LLC
Professional Driving Academy
Professional Healthcare Educators
Quantum School of Holistic Health
Remington College
Ricky T's CDL Services, Inc.
Solar Training Institute, Inc.
Sweetwater Health Education
UH – Hawai'i Community College – Hilo
Office of Continuing Education & Training
UH – Hawai'i Community College – Pālamanui
UH – Hawai'i – Hilo – North Hawai'i Education and Research Center (NHERC)
UH – Honolulu Community College
Continuing Education and Lifelong Learning
UH – Kapi'olani Community College
Office of Continuing Education & Training
UH – Kaua'i Community College
Office of Continuing Education & Training
UH – Leeward Community College
UH – Leeward Community College
Office of Continuing Education & Workforce
Development
UH – Maui College
UH – Windward Community College
UH – Windward Community College
Office of Career and Community Education
West Kaua'i Nurse Aide Training Program
West O'ahu Wellness and Massage Education Center
Windward Therapeutic Massage Center

Vocational and Technical Programs*

Administration of Justice
Auto Body Repair & Painting
Automotive Mechanic Technician
Barber Styling
Carpentry Technology
CDL – Commercial Driver's License
Certified Nurses Assistant
Cosmetology
Culinary Arts
Dental Assisting
Electrical Installation and Maintenance Technology
Exercise and Sport Science
Fashion Technology
Fire & Environmental Emergency Response
Health Information Technology
Human Services
Maritime License
Massage Therapy
Medical Assistant
Mobile Intensive Care Technician
Nursing
Occupational & Environment Safety Management
Office Technology
Professional Medical Coding
Radiologic Technology
Refrigeration and Air Conditioning
Small Vessel Fabrication and Repair
Teaching
Welding & Industrial Mechanic

*Include but are not limited to the programs listed above
Hana Lima Scholarship Program (HLSP)
ALU LIKE, Inc., Kā Ipu Kā'eo Department
Telephone: (808) 535-6700 | Email: HanaLima@alulike.org